New Compliance Pathway – Performance Rating Method
ASHRAE Standard 90.1-2016 offers a new compliance pathway at permit stage called the Performance Rating Method. This compliance pathway uses Appendix G energy modeling, which was previously only used for above-code programs such as ENERGY STAR and LEED. This pathway will be useful for projects that are pursuing an above-code program and can now use their energy model to demonstrate compliance, as opposed to additionally completing a COMcheck or an Energy Cost Budget energy model.
Building Envelope - Air Tightness
There are new inspections required for building air tightness that specifically requires project teams to develop an air barrier design and installation verification program that includes a design review to confirm compliance with air barrier requirements and periodic field inspections.
Fenestration Performance Increase
Fenestration performance has been increased in both NJ Climate Zones (CZ4 & CZ5). The increases should not create major challenges for project teams, but refer to the table below for a breakdown of u-factor requirement changes: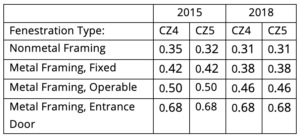 Lighting Power Densities
The requirements for Lighting Power Densities have become more stringent. This means that buildings are required to lower the installed lighting wattage per square foot. These requirements follow the wide-spread adoption of more efficient LED lights, though you will find that you can often still comply with the requirements using linear fluorescents and compact fluorescent fixtures.
Mechanical Systems
There are several mechanical changes according to different building system types. Generally, these changes affect controls and/or monitoring of mechanical systems. HVAC system efficiency requirement increases are generally modest and in line with products currently available on the market.
ReVireo offers a full suite of commercial energy code compliance services including energy modeling, design consulting, COMcheck & permit pathway documentation, commissioning, and HVAC testing & balancing.