Indoor airPLUS
at a Glance
New single family and multifamily residential buildings (up to 5 stories) are eligible for certification.
The Indoor airPLUS label requires ENERGY STAR Homes certification.
The Indoor airPLUS label is achieved by implementing construction specifications and product requirements, followed by third-party inspections.
What is Indoor airPLUS?
Indoor airPLUS is a partnership and labeling program that enables builders to improve the indoor air quality in a new home compared to the minimum code requirements. Created by the EPA, the Indoor airPLUS label is a companion label to the ENERGY STAR Certified Homes Program. Minimizing airborne pollutants and contaminants, including biological and chemical agents, is beneficial for the occupant's health. Additional home design and construction features improve the indoor air quality significantly.
Requirements for Indoor airPLUS
Indoor airPLUS provides construction specifications and product requirements for comprehensive indoor air quality in new homes. These features protect the house from pests, moisture and mold, combustion gases, and other airborne pollutants.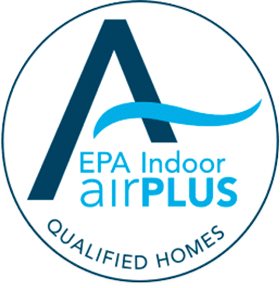 Steps to Achieving Indoor airPLUS
Specify materials and equipment needed to achieve program requirements.
Inspect and verify implementation of Indoor airPLUS construction and design features, utilizing the Indoor airPLUS checklist.
Process certification.
Benefits of Indoor airPLUS Certification
Reduce operational and maintenance costs
Improve indoor comfort and health for occupants
Minimize environmental
impact
How ReVireo Can Help
ReVireo is an Indoor airPLUS consultant and third-party inspector. We provide consulting on the required specifications and perform verification testing and inspections to ensure your project complies with the EPA's guidelines for Indoor airPLUS certification.